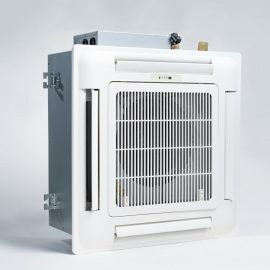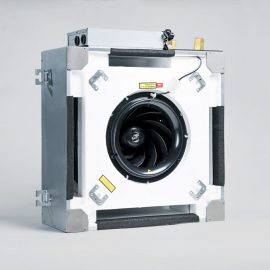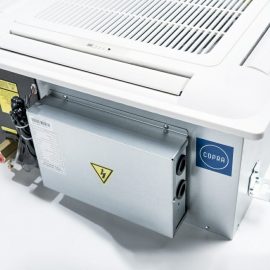 Fan coil unit with diffusor for ceiling mounting
Heating and cooling applications
Remote controlled operation
Copra Fan Coils are made to meet the strict requirements of the marine industry. They are highly reliable and made through close cooperation with our customers. The compact size and easy installation make them easy to fit onboard your ship.
The C-Fan Coil is available in 3 different sizes, ranging from 4.9kW to 12kW in cooling capacities.
Model
C4.9
C7.5
C12

If electrical heating element (H)

1700W

1700W

2500W

Model of panel
MB-SD11K2
MB-SD11K3
MB-SD11K3
Power supply
230V,60Hz,1Ph
230V,60Hz,1Ph
230V,60Hz,1Ph
Air Volume
H
m3/h
880
1380
2200
M
700
1100
1760
L
530
830
1320
Static Pressure
Pa
0
0
0
Cooling Capacity
H
W
4900
7500
12000
M
W
4150
6400
10200
L
W
3400
5200
8300
Heating Capacity
H
W
7600
11600
18600
M
W
6450
9850
15800
L
W
5100
7750
12450
Noise
H
0Pa
dB(A)
42
46
51
Power Input
H
0Pa
W
70
130
210
Waterflow Volume
m3/h
0,83
1,28
2,04
Water Pressure Dropping
kPa
18
23
42
Dimension of water(in & out)connection pipe
in
ZG3/4″
ZG3/4″
ZG3/4″
out
ZG3/4″
ZG3/4″
ZG3/4″
Coil
type
High efficient copper pipe to wear hydrophilic aluminum coil
Dimension of water drain pipe
mm
ø26
ø26
ø26
Net dimension
Unit
L×W×H     mm
750*750*242
840*840*242
840*840*292
Panel
850*850*40
950*950*40
950*950*40
Net weight
Unit
kg
22
25
27
Panel
kg
4,2
5
5
Other products