CFC-EC Centrifugal Fan Coil with integrated control is normally used in technical rooms with raised floor and high demand of cooling.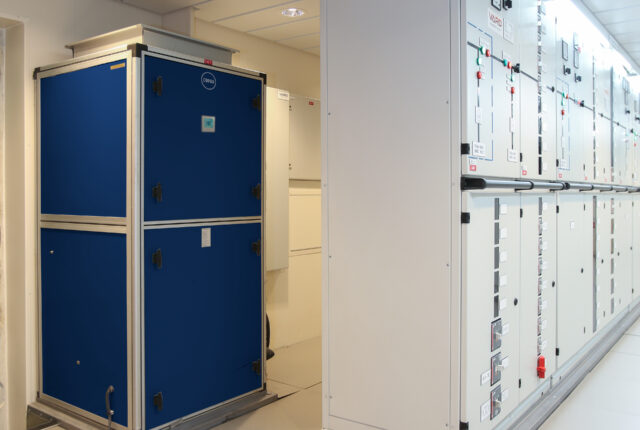 The COPRA Centrifugal fan coil (CFC-EC) is constructed from galvanized sandwich panels. It features a direct drive EC-fan, Al/Al coil, high quality air filter on the inlet and a condensation drip tray. The CFC is well suited for use in raised floor switchboard rooms and other areas with sensitive electrical equipment.   
The CFC-EC is equipped with integrated modbus controller of fan and valve via 0-10V.  Valve is not included as the type of valve is depending on whether it is dynamic or static systems. Offer on request. The Copra CFC-EC can be used with chilled water system (6°C-12°C), and they range from 13KW to 38KW. 
The centrifugal fan coils come in 4 types:
– CFC 13
– CFC 20
– CFC 27
– CFC 38
As standard the CFC-EC has direct downwards flow for pressurizing of raised floor arrangements, but on request, the CFC-EC can be delivered with air outlets both on sides as well as in the lower front.
Other products